We've returned over 100 acres of previously inaccessible land, the former site of the Transport Research Laboratory (TRL), to public use. The woodland, heath and grassland of Buckler's Forest are now open for residents old and new to enjoy.
My role at Buckler's Park is to help Legal & General Homes record the species that are present on site and implement a strategy that protects them and encourages others to thrive. Our organisation has been advising on the scheme for a decade and I've been working on it personally since 2014 – so we know the former TRL site incredibly well and are committed to its future.
From the outset, one of our main considerations was the development's close proximity to the Thames Basin Heath Special Protection Area, which holds the highest level of importance and protection that land can have in this country. We needed to tread carefully and be mindful of the species living there – among others, the heathlands are home to internationally important populations of three types of rare bird species: the nightjar (Caprimulgus europaeus), Dartford warbler (Sylvia undata) and woodlark (Lullula arborea), as well as nationally important invertebrate populations which includes for species such as the silver-studded blue butterfly (Plebejus argus) and the brilliant emerald dragonfly (Somatochlora metallica).
At Buckler's Park we've recorded a range of bats including the soprano pipistrelle and the common pipistrelle (Pipistrellus pygmaeus and Pipistrellus pipistrellus), noctule (Nyctalus noctule), serotine (Eptesicus serotinus) and brown long-eared bats (Plecotus auritus). We've also spotted a number of amphibians including the palmate newt (Lissotriton helveticus), common frog (Rana temporaria) and common toad (Bufo bufo) and all the common species of reptile – slow worms, common lizards, adders and grass snakes. They're quite normal in this part of the country but are rather shy so you're unlikely to spot them on a daily basis.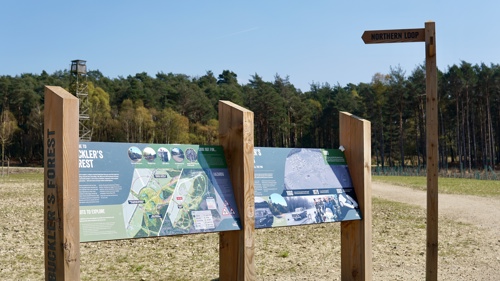 When we first arrived at the TRL site, areas of green space were dominated by species-poor woodland predominantly made up of Scots Pine. Thousands of these trees had been planted at the same time; unfortunately, this 'monoculture' is not a good environment for animals to prosper as it appeals to a relatively small number of species. To rectify this, we carefully considered a typology that would benefit the greatest range of insects, birds, mammals, reptiles and amphibians and we are now planting a mosiac of broadleaf woodland, heathland and species-rich grassland. Eventually there will be 20,000 new plants of different species and sizes and this botanical variety will provide homes for a much greater number of creatures.
Another part of our job is helping Legal & General Homes design properties to benefit the natural environment. Special hedgehog highways mean smaller animals can move between fenced gardens, integrated bee bricks allow solitary insects to nest in the walls of houses or gardens and we've installed built-in bat and bird boxes in some buildings and trees in Buckler's Forest.
Woodland like Buckler's Forest develops and matures over long periods of time and, after only one year, we're still very early on in the process. That's why we always talk in decades, rather than months and years – but we're at the start of a very exciting journey.
By Jacob Hepworth-Bell, Ecology Solutions, Ecologist at Buckler's Park
The entrance to Buckler's Forest is located on Woodcote Green, just off Old Wokingham Road in Crowthorne (sat nav postcode RG45 6LL). The forest, including play areas, mountain bike routes and walking trails, are now open to the general public during daylight hours. Dogs are more than welcome, and walkers are encouraged to come to the Visitors Centre where dog biscuits are available for extra fuel.