After thirty years in both the new homes and design industry, it is safe to say that I appreciate the importance of first impressions. From viewing a show home at a new development to inviting friends over for the housewarming, interior design is a fantastic way to make an impact.
When designing our interiors, we aim to create beautiful spaces that appeal to a broad range of tastes while reflecting the brand and ethos of our clients. With Legal & General Homes, this means complementing the high-specification fixtures and fittings and making sure the buying process is as stress-free as possible – underlining their commitment to customer service and quality.
That's why Legal & General Homes asked us to develop four colour palettes for customers to choose from at no additional cost. Even the most design-savvy buyer can feel overwhelmed when faced by the sheer number of choices that come with furnishing a new home. Across the three Legal & General Homes developments – Buckler's Park, Finchwood Park and Cross Trees Park – we designed bespoke show homes to reflect each site's unique surroundings. However, our specially designed palette gives buyers confidence that, whichever home they choose, it will have beautiful and coordinated interiors.
Making the most of your new home
My top tip for people moving into a new home is to think about how you live and what is important to you.
Modern living means that rooms often have hybrid functions – your downstairs study could be a work-at-home office, the kids' playroom or a spare room for when the in-laws come to visit. Ask yourself how you can get the most out of each room. Concentrate on one room at a time and try not to rush.
I always tell people to invest in high-quality beds and sofas that are comfortable and will stand the test of time. Being able to relax in your own home is non-negotiable, and, of course, a good night's sleep can solve a myriad of problems.
But, once the essentials are out of the way, make sure you have fun! There's so much inspiration out there, and you can use social media sites like Pinterest to make mood boards and explore different design styles. Most of all, don't be afraid to express your personality through your home. Design is about you and your loved ones and if you find a piece that will make you smile every time you see it, go for it.
Trends to watch in 2020
Interiors in 2020 will be natural, organic and make good use of reclaimed materials, echoing broader trends around sustainability.
We've also noticed the revival of rattan furniture, a '70s throwback which has proved to be a key trend of 2019 – expect to see more open basket weave furniture in the form of everything from bed frames to armchairs into 2020. The botanical craze isn't going anywhere either. Bringing foliage into the home remains a great way to bring life and colour to any space, as well as being good for the air you breathe. There are plenty of varieties like the monstera, an easy-care plant which you can pick up for around £10 in your local garden centre and needs nothing more than a regular watering. Colour-wise, 2020 is all about warm, spiced-honey tones like burnt oranges and ochre yellows. Greens, from the palest sea foam to rich forest green, will also be popular.
Regardless of trends, if you are thinking about moving into a new home or revamping your current one, stick to classic pieces and let your personality shine through with accessories and artwork. Most importantly, throw yourself into the process and enjoy the journey!
By Andrew Henry, founder and director, Andrew Henry Interiors.
You can see the show homes that Andrew Henry and his team have designed at Buckler's Park, Finchwood Park and Cross Trees Park by visiting today.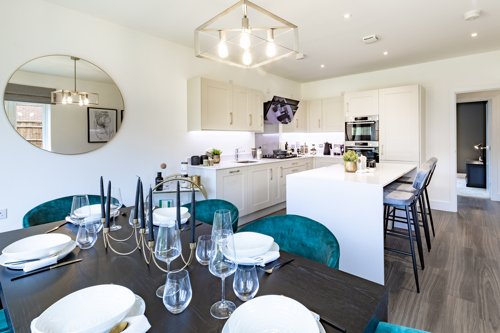 The Burnham at Finchwood Park, interiors by Andrew Henry