"Ollie and I have been together for around three years now," explains Dean Reakes (40) from the study of his three-bedroom home at Legal & General Homes' Cross Trees Park development in Shrivenham, Oxfordshire. 
"Ollie and his family have lived in Swindon all his life and I'm originally from Cardiff. Before buying at Cross Trees Park, we were staying at Ollie's parents' house for around six months. That was great because we all get on really well and it helped us to save for a deposit. However, the ultimate goal was always to have our own space and find our forever home together.  
"It was Ollie's parents who were house hunting originally and found Cross Trees Park. When they took us to see their new home [a three-bedroom Drayton], we were so impressed with the layout, finish and surroundings that we ended up buying the house across the road from them!" 
Dean and his partner, Ollie King (23) were both first-time buyers and started by viewing one of the two-bedroom homes at Cross Trees Park. "We decided very early on that we wanted a new-build home because our taste is quite modern, and we didn't want the hassle of taking on an older property.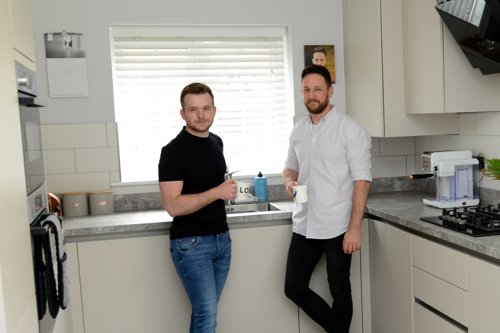 "When the sales team took us around the two-bedroom home, it blew us away. It had everything – a smart heating system, beautiful flooring and even two bathrooms with sparkling taps and a heated towel rail – and this was all included in the sale price. That's not the case when you look around lots of new-build developments; there are usually so many features that come at an extra cost and chip away at your budget.  
"Initially we were only considering a two-bedroom home – we didn't think larger properties would be within our reach. But, when the sales team suggested we look around a three-bedroom Farringdon home they had available, we fell in love with the space and the potential flexibility that a third bedroom would give us.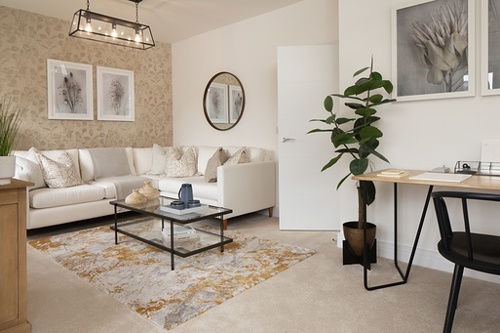 "I'm so pleased we did it. We didn't even realise at that stage how important the extra space and garden would be – we moved in a week before lockdown began in March!"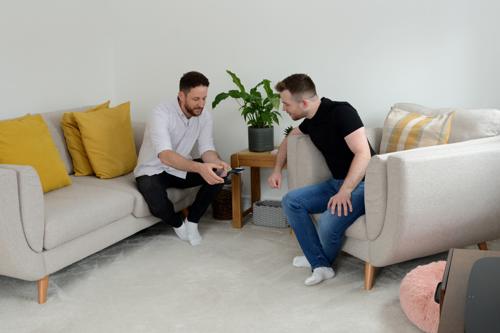 The best of both worlds 
Moving from Cardiff and Swindon, Dean and Ollie were both used to urban surroundings. "Cardiff is a great city," says Dean, "but village life had always appealed to me and that's the setting we were looking for in our first home.  
"The area around Cross Trees Park is lovely and there's a genuine community feel to Shrivenham. It's exactly what you picture when you think of an English countryside village: a church, village green and thatched cottages. We'd considered other locations that offered a similar setting – places like Henley for example – but you get so much less for your money. 
"As you can imagine, it's been great to have so much green space on our doorstep during lockdown. Now that things have been opening up again, we've enjoyed walking into the village and popping into the shops, pubs and cafés on the high street."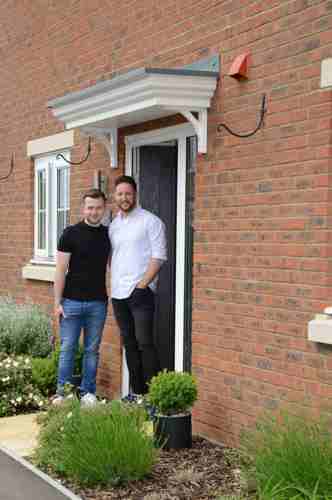 "Even though our dream was to live in the countryside, we didn't want to be isolated or stuck in the middle of nowhere. Good transport links that let us easily visit friends and family, as well as access to shops and restaurants, were a must. Cross Trees Park allows us to enjoy village life, but it's also ten minutes from the motorway and around fifteen minutes from Swindon Railway Station, which runs fifty-five-minute trains to London. It gives us the best of both!" 
Flexible homes for modern living 
Dean works as a Regulatory Compliance Officer at Animal Friends Insurance and Ollie is a forklift truck driver. Both have continued working throughout the summer, with Dean relocating from his office in Amesbury to one of the spare bedrooms.  
"Lockdown meant we settled in very quickly – to be honest, I quite enjoyed the peace and quiet, as well as the opportunity to appreciate our first home together on our own for a bit. Though my 40th birthday in June was more subdued than I would have liked!" says Dean.  
"The house offers us real flexibility, because all of the rooms are a good size so they can be used in different ways. I've turned the third bedroom into my office rather than working at the kitchen table, which means I can close the door at the end of the day and properly switch off and relax. Whenever I do start to spend more time in the office again though, I think Ollie might have his eye on it as a gaming room." 
Dean and Ollie's new home has a private garden, accessible though bi-fold doors in the kitchen. "Having the garden has been great, especially during the summer. We've had a few guests around (socially distanced of course) and it worked really well as a space for entertaining; it's a good size and the easy access to the kitchen makes hosting really relaxed."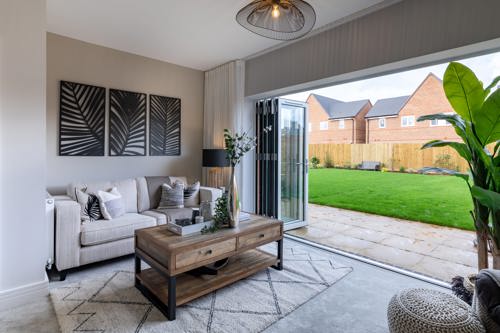 Buying with Legal & General Homes  
"Our buying experience was amazing. There was no aggressive sales push when we first went to visit and we never felt pressurised, which I think was particularly important as first-time buyers. When we did express an interest, we were looked after right through the process and up to the present day – they don't forget about you once you move in!  
"I worked for Legal & General a while ago, so I know the reputation that the brand has and the high standards it works to. But with us, they have outdone themselves. It sounds cheesy, but dealing with the sales team was like talking to family, and the attention to detail around the homes and development is fantastic – from the planted shrubs in the front garden to an electric-car charging port in the garage. That's why I keep going on about it to my colleagues and encouraging them to look around. I even felt compelled to email the Managing Director and tell him he should be proud of what he, and all his team, have achieved." 
Whatever stage you're at in your search for a new home, the Legal & General Homes team is here to support you. Booking a virtual tour will give you a detailed insight into the features, specification and feel of the home that you're interested in, while a member of the sales team will be on hand to answer all your questions, no matter how small.  
For more information, visit our Cross Trees Park page.