Ciara Mallon and Shaun Burningham - both in their 20's - were among the first residents to move into Nobel Park; having purchased a three-bed semi-detached home as first time buyers.
Ciara said: "We had been renting a one-bed flat in Henley-on-Thames for a while, however we were fed up with not having a place, or the space, to call our own. Having been cooped up over lockdown, we were more eager than ever to buy a larger home and get onto the property ladder.
"House prices in Didcot are significantly more affordable than the likes of Reading or Henley. It's greener here, and we've also got family close by, so the move back to the area was an easy decision for us to make."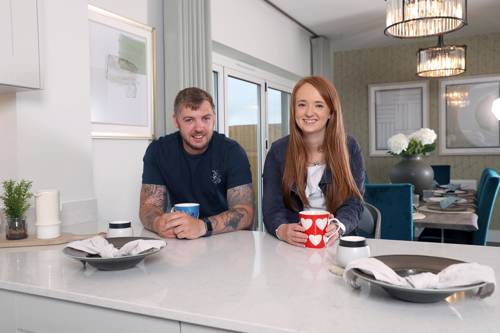 After a couple of visits to other developments, Ciara and Shaun set their sights on the Legal & General Homes Nobel Park development and quickly reserved on their three-bedroom detached Farringdon house.
Shaun said: "With the dog, our love of walking and my passion for cycling, you could definitely say that we're an 'outdoorsy' couple. For me, the home's big bi-folding doors leading out into the garden and giving us easy access to the great outdoors were the biggest factors when it came to choosing where to buy our first home.
"As well as the properties fronting onto leafy green corridors which nicely space out the homes, Nobel Park will have plenty of wildlife walks for us to go on, once build completes; with Didcot's network of paths and cycleways on our doorstep too.
"Up the road, at the end of the site, it's fields for miles, and once the development is complete, there will be a path extending directly into Didcot and the train station."
The appeal of the site's greenery was a huge driver for the couple, who have made full use of the surroundings over the warmer months since their move this summer.
Ciara continued: "Every home is within an easy walking distance of nice outdoor features, such as woodland, copses, hedgerows and watercourses – all of which have been incorporated into the site. It was a real change from us having spent lockdown in our 400 Sq. Ft. rented studio apartment.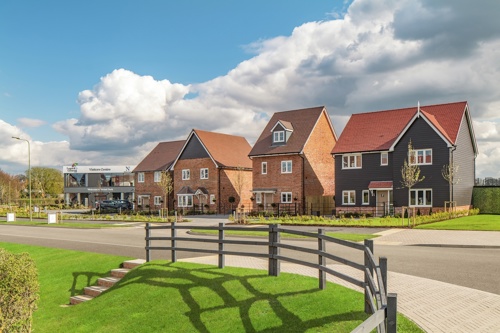 "Having looked at other sites in the area, Legal & General Homes' level of spec really stood out for us. From the quality of the build, to the fact that everything comes fitted as standard, such as fully fitted Bosch fridge freezer, oven, combi-oven, washer/dryer, dishwasher and induction hobs.
"When my parents visited, they commented on how much the bathrooms had a luxe, boutique-hotel feel about them. They really do look impressive, and the best bit is everything was included in the price, so there weren't any nasty surprises for optional extras."
Shaun explained: "You might think you'd compromise on space when you buy your own place, however, our square footage has hugely increased. The prices in Henley and Reading were ridiculous, and to rent a three-bed place similar to what we've bought would cost £1,600 a month to rent before bills.
"That's a significant amount more than what we're paying for our mortgage now and the room sizes here are really big - each of the bedrooms are dual aspect with two windows in each, making them really bright and spacious.
"People in Henley struggle to get on the ladder at our age, as you can be looking at up to £800,000 for just a two-bed apartment. However, if you go 40 minutes up the road into Didcot, it's a lot more affordable. We've got a three-bed house for less than half that!"
"Although we've loved being among the first residents here, we're really looking forward to having more neighbours and can't wait to see the community really blossom."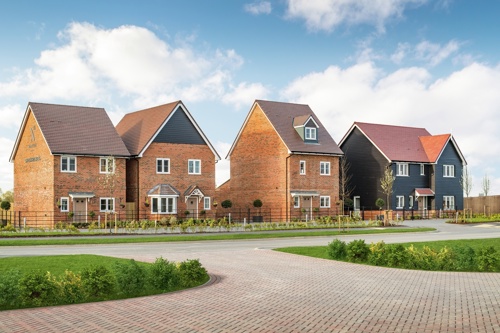 Neil Simpson, Sales and Marketing Director at Legal & General Homes, said: "We're absolutely delighted to welcome our first residents to Nobel Park and it's wonderful to hear that Ciara and Shaun have had such a positive experience. It's a really exciting new development for us, as we aim to build on the community being created at Didcot and offer local house hunters like Shaun and Ciara high-quality new homes.
"We've had an overwhelmingly positive response since launching the first homes and we're already forward-selling into 2022, with homes being snapped up as part of our early bird offer. With the range of facilities that will be available once Nobel Park is complete, its open space and variety of homes available, we expect the development to appeal to a wide range of buyers in the area."
From first-time buyers to families and downsizers, Nobel Park has homes to suit everyone - with its range of two to five-bedroom properties. Ready to move into this year are the 2-bedroom Maryland apartments, which come complete with two allocated parking spaces, Bosh integrated appliances, Hive Smart Heating and high-quality flooring as standard.
Once complete, Nobel Park will offer 1,880 high-quality homes set across 250 acres of leafy, open space; including allotments and children's play areas.
The development will encourage healthy lifestyles with a new leisure centre, sports facilities, pitches and a pavilion all on site. Sustainable travel will be encouraged through new and upgraded paths and cycleways, and a neighbourhood centre will provide a community hall and a hotel with space for a crèche / children's day nursery and a shop for everyday essentials.
For more information visit our Nobel Park page or call 01235884749.
The Nobel Park Visitors Centre will open by appointment only at Willington Down, Lady Grove, Didcot (OX11 9BS)