As the nights draw in and the weather cools, Felicity reveals her showhome styling secrets and shares her top tips for Autumnal abodes. Felicity explains how she tackled the brief from our recently launched development to create a homely space which incorporates warmth, but one which remains uncompromisingly modern.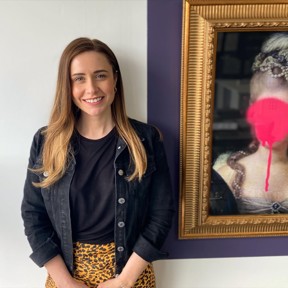 Treat your home-project as though it's an interior design brief
Our brief from Legal & General Homes was to curate showhomes on the homebuilder's Nobel Park development in Didcot, Oxfordshire – a new development of quality 2 bedroom apartments and 2, 3, 4 and 5 bedroom homes in an aspirational setting.
With an abundance of open spaces and greenery, we wanted to ensure the development's showhomes were in keeping with their natural setting, but still retained a trendy and modern feel.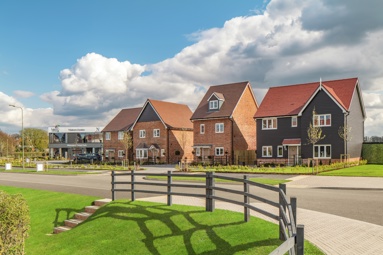 You could look to the changing seasons for your own brief - getting ideas from all the natural textures and colours the autumn and winter seasons bring. People should think carefully about their surroundings; taking inspiration from nature, local elements, and the countryside to inform their plans.
Bringing in these elements from the outside, we used this approach on the four-bedroom Gidea showhome on the development. Through our response to the brief, we created a spacious feel yet a homely showhome, scattered with warm textures and tones throughout. It is a perfect space for busy families, with separate areas for entertaining, relaxing, and working from home.
Colour is key
Taking that inspiration from nature, I'd suggest incorporating shades you see in the trees during Autumn and Winter into your colour palette. Avoid cool hues and opt for a mix of greens and terracotta tones instead - khaki green is a particular favourite of mine. If you're wanting yellows, avoid acidic tones and opt for warmer, autumnal shades - and if you're still wanting to go with blue, you can warm up a room by incorporating darker wood shades into your furnishings.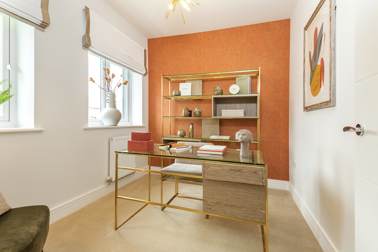 Create warmth through lighting
It might sound simple, but when it comes to lighting, you should ensure the lightbulbs you use are warm, rather than cool-hued bulbs; especially so, heading into the colder months. Make sure the colour of the bulbs in your lamp matches that in your ceiling. They're simple solutions, but they instantly add a warm look to rooms and can be easy to overlook.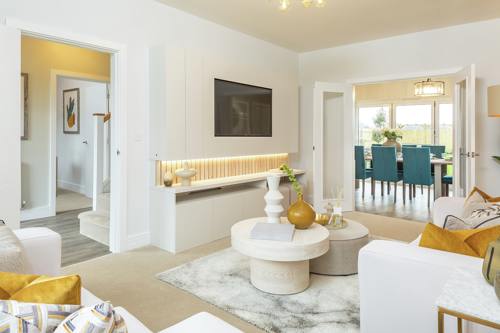 Keep it comfy
We always ensure the cushions we use are feather-filled. They're fuller, comfier, can be shaped on the sofa better and last longer than their synthetic counterparts.
If you want to nail a minimalistic look which delivers on cosiness, a really nice contrasting piping on cushions can really bring this style to life. We incorporated a dark grey piping around the outside of the cushions in the Gidea lounge, to add further warmth; but if you're using a darker sofa, be sure to bring in lighter tones to your fabrics.
When it comes to cushion fabric choice, I live by the rule of three - one plain, one heavily textured and one patterned - you can replicate if you need more than three cushions, but you don't need any more than that as a rule of thumb.
Another stylish way to make a room comfier is by creating a layered coffee table. This can be achieved by overlaying a pouffe with a coffee table. As well as being multifunctional, it softens the room whilst adding warmth.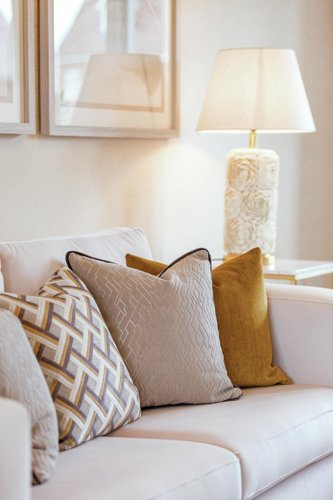 Don't climb the walls
People can overcomplicate matters when matching rugs and their wallpapers, but it doesn't have to be stressful. We tend to match the tones of our wallpapers into the rugs; so, if you've got a vast space of wall to cover with paper, it's nice for the rug to mirror the walls ever so slightly. When thinking about rug sizes, always ensure you've got a big rug and it fits properly in the space. They are expensive, but it's worth spending money one which is a decent size to complement the space - you want it to be at least double the size of your coffee table.
You also don't need to wallpaper every wall. Sticking to a feature wall is fine, but you shouldn't immediately reach for maximalism and statement styles just because you're decorating one wall. People always think if you're only doing one wall it needs to have impact, but you can add a great deal of depth using simple textures and patterns.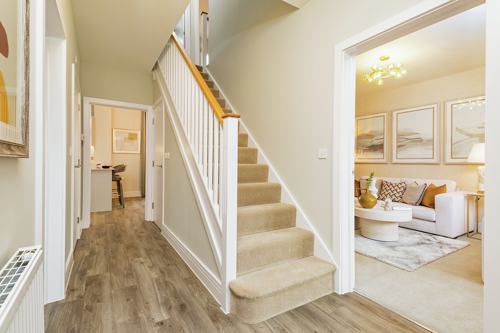 Minimal doesn't need to be clinical
To maintain a minimalistic look which adds warmth going into Winter, focus on rich textures to avoid an overly-clinical feel. When looking at wallpaper, consider vinyl wallpapers which add depth and texture, and for curtain fabrics, I'd encourage people to focus in on textures and colours, instead of patterns.
To achieve a good balance between modern and traditional styles and to deliver a homely-look, you could consider a pinch pleat heading on the curtains - as we did in the Gidea at Nobel Park.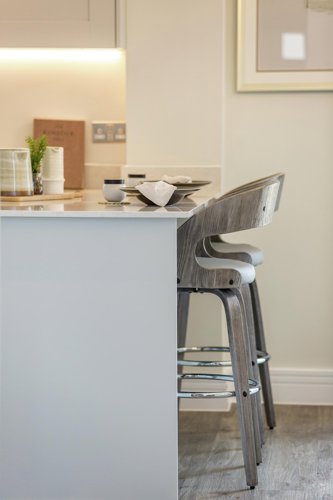 Snuggle up
Finally, if you've added wooden finishes through your bedside tables, you should look to incorporate fabric into that space - either through an upholstered bed, as we did in the Gidea - or a linen lampshade to tie it all together. As the coldest rooms are those with hard finishes, you want to make sure you've got some fabric in there to break up the harshness.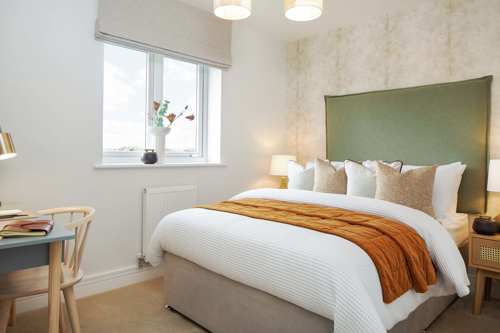 For more information, please visit our Nobel Park development page.